Dixie Valley
When the town of Dixie Valley was first founded in the late 1800's to the early 1900's, it was founded because of an interest in salt, potash and borax discovered in the area around 1861. This interest was intermittent.
Many people did not take advantage of the valley's copious water supply until the early 1900's. There were approximately fifty families and ranches using the natural water spewing from the ground to grow alfalfa and raise cattle for nearly a century.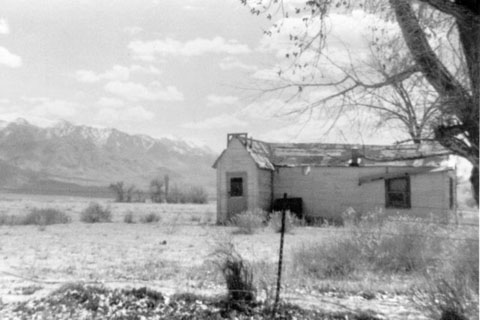 The Dixie Valley schoolhouse was the most moved building in Churchill County. It was originally constructed in the Beach District during the year 1929. The school accommodated the Beach area until 1939. It served at West End and Oats Park in Fallon, and was then relocated permanently to Dixie Valley in 1961 to replace the old school. The school closed a few years later. After the closure, the children of Dixie Valley were transported by school bus to the Fallon schools. The school was then burned by the Navy in the late 1980s. The town also had a post office from March 7, 1918 until December 30, 1933.
Today, Dixie Valley is mostly known for the bombing and training done there by the Naval Air Station. Since the United States Navy bought out and took control of the once prosperous valley, not many people spend much time there. The geothermal plant at the north end of the valley employs many people who either drive or fly from the Fallon Municipal Airport on a daily basis. The plant supplies electricity to neighboring states. Hunters of various game still find the valley rich in wildlife.
There are times when you can drive through the valley and not see a living soul, but see remnants of the valley's history. Such things as an abandoned house, a dripping faucet from a spring or a dried up field where crops once grew are all reminders of the valley's colorful past.