Stillwater
Stillwater, named for tranquil ponds, was first settled by J.C. Scott in 1862 (although the area was populated by Northern Paiute long before that). An Overland Stage Station was established that same year, and by 1868 Stillwater boasted a population of 150 and a store, saloon, hotel, restaurant, post office, and blacksmith. The County Seat was also moved from La Plata in 1868 and a new courthouse completed in 1869 (replaced in 1881 by a handsome two-story wooden building). The fine white, frame Sanford Hotel was constructed in 1870 to replace the earlier tent hotel and a grammar school was completed in 1872. By 1880, farmers had developed one of the first irrigation systems in the state and supplied produce to surrounding mining camps. At the turn of the century, most of the agricultural focus in the valley shifted west to newly-established Fallon. By then, Stillwater only housed around three dozen and in 1904, the County Seat moved to Fallon. Despite this, a new brick hotel was erected in 1907.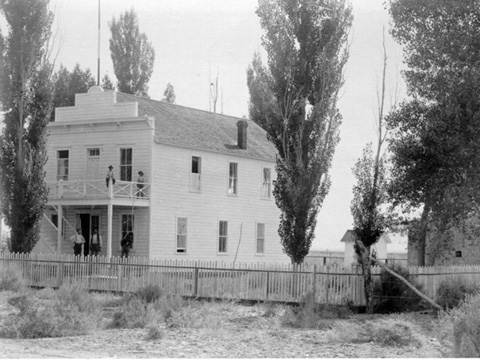 In 1919, extremely hot water was discovered at Stillwater when Charles Kent dug a well. Not long after, W.W. Wheeler and a man named Freeman began drilling for oil nearby and in June 1920 struck hot water, developing a geyser that wouldn't be capped for a year or more. Oil was never found, but there was a small boom of hopefuls which ended in 1921.
Shortly after Kent's hot water discovery, an outdoor swimming pool was dug by Charles Cirac. Two smaller pools were also dug and housed inside a large metal building. In 1921, Mrs. Ella Ada Johnson Maxwell took over the pools. She married Albert LeBeau on March 29, 1928 and together they continued to operate and improve the 'LeBeau Plunge.' On December 28, 1932, Albert LeBeau took his own life as a result of financial difficulties and he was found in one of the indoor pools. The pools finally closed around 1970.
Today, not much remains of Stillwater's heyday. The hotels were dismantled in 1946, the original store burned in 1963, and the LeBeau Health Resort was demolished in 2001-02. The Stillwater Wildlife Refuge was created to the northeast of town in 1948 and contains 22,000 acres of wetlands, and a geothermal power plant went online in 1989 (although the original was replaced in 6.17.2009 by an expanded facility that also includes solar). A more recent, now-closed, store remains amongst a street of abandoned hunters' shacks in various states of decay, and the 1918 schoolhouse is currently used as a community center for the area.