Owyhee
Owyhee's unusual name comes from early trappers, who called the Owyhee River the Sandwich Island River after natives of those islands were killed by Indians at the river's mouth. After the Sandwich Islands became more widely known as Hawaii, the name of the river changed as well (though a corrupted, phonetic spelling was used).
On October 1, 1863, the Treaty of Ruby Valley was signed by Western Shoshone chiefs and governors of the Nevada and Utah Territories. Though this treaty ceased hostilities between the Shoshone and white settlers and allowed for development of the land, little was done to address needs of the tribe and no reservation lands were given to them. As early as 1870, the tribe began requesting that Duck Valley be set aside as a reservation, but it wasn't until April 16, 1877 that President Rutherford B. Hayes finally signed the order granting the tribe the land; fourteen years after Treaty of Ruby Valley. It was around this time that the town of Owyhee was established.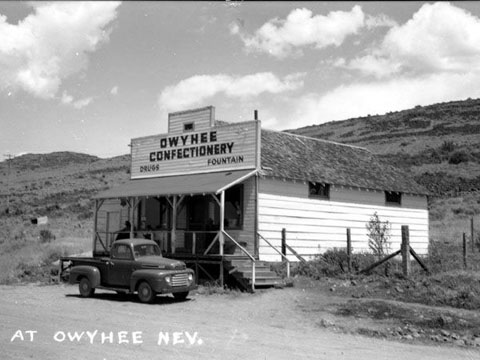 Unfortunately, the conflicts did not end there. A corrupt agent for the Western Shoshone Agency redirected government goods to himself until his replacement in 1882, by which time many Shoshone left due to hardship. In 1884, an attempt was made to force the Shoshone to relocate to Fort Hall, Idaho Territory in order to use the land, but was unsuccessful. On May 4, 1886, the reservation was expanded by President Grover Cleveland to accomodate Northern Paiute returning to Nevada following the Bannock War of 1878 (they had been interred at the Yakama Indian Reservation in Washington Territory since the war's conclusion). Another order signed by President William Howard Taft on July 1, 1910 further expanded the reservation to its current size.
By 1881, a stage line was established to Owyhee from Elko, and that year a $1800 schoolhouse was built. In 1884, the population was around 300 and a new school was built to educate the town's twenty-five students and a boarding school was established. On March 24, 1886 the Duck Valley News was put into publication, but it lasted less than a month. In 1892, Owyhee gained its first physician, and by 1893 600 people lived in town. In 1897, a one-room infirmary was built. Ranching was the mainstay, and Indians dealt directly with local horse and cattle buyers, earning a great deal of respect.
After the turn of the century, Owyhee continued to grow. Telephone service arrived in 1904, and the new Swayne School was constructed to replace the earlier school buildings. In 1911, the boarding school closed and three rural day schools were established. In 1914, a hospital replaced the 1897 infirmary. By 1931, the Great Depression forced closure of the day schools, funneling all 120 students to a new school building; high school classes were added in 1946, before which upper grades were sent to boarding schools. Before the end of the 1930s, construction was undertaken on fine, new native stone buildings, including a new hospital completed in 1937. That same year, Wild Horse Dam was also completed, ending decades of water problems. Today, around 1000 people live in Owyhee, which is still a thriving agricultural community.