Unionville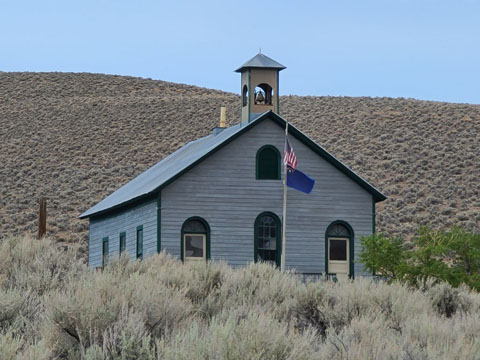 Indians brought ore to Virginia City from Buena Vista Canyon in early 1861, and by May the Buena Vista District was organized. A camp known as Dixie was established by Confederate miners in the upper part of the canyon, but as more miners from the North moved in, the camp was renamed Unionville following a local political fight. In November it became the county seat of newly created Humboldt County.
Unionville continued to prosper and by mid-1863 boasted a population of nearly 1000, ten stores, nine saloons, six hotels, four livery stables, and numerous other businesses constructed of lumber and adobe. A newspaper, the Humboldt Register, began publication in May.
In 1864, Unionville reached its peak before dipping into a decline, which lasted until 1868 when work picked up at the Arizona mine. By the early 1870s there were three ten-stamp mills treating low grade ore. A $30,000 fire in August 1872 contributed to Unionville's now-continued decline and in 1873 the county seat was lost to Winnemucca. In 1880 the Arizona mine closed, and by then Unionville was left with only 200 residents. Production until then amounted to $2.7 million, and no significant work has occured since. Irrigation brought small farms and orchards to Buena Vista Canyon in the 20th Century, which remain today amidst ruins of Unionville's past. Tucked away within its picturesque canyon, about 20 people still call Unionville home, and a quaint bed and breakfast is open for visitors.