Kingston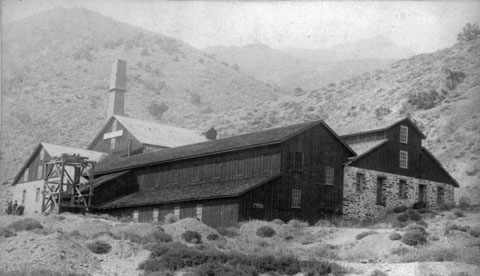 Kingston came into being in 1864 as a response to mining at nearby Bunker Hill as well as newer discoveries at the mouth of Kingston Canyon, due in part to the fairly level land which was more suitable for millsites and housing. In 1865, the 20-stamp Sterling Mill began operation, and Kingston's first post office opened January 11th of that year. In 1866 the Sterling was joined in operation by the Big Smoky Mill and two smaller mills. Slowly, the mines dwindled and Kingston began to fade. On December 26, 1867, the post office closed, and in 1869 the Big Smoky Mill was moved to White Pine County. The district was dormant by the end of 1870.
In 1881, a few mines reopened and brought some life back to Kingston. A post office, now called Morgan, opened on November 23. In August 1882, the Victorine Gold Mining Company took control of the mines in the district. In 1885 a new school opened, and that year the name changed back to Kingston. Soon, this revival came to an end, and the post office once again closed on April 15th, 1886.
Kingston's final revival would begin in 1906, when the Kingston Mining Company began operating the mines. In 1909, they opened a 60-ton mill which only operated until 1911 when the company folded. That was the last mining activity in Kingston.
Today Kingston is a small picturesque community that has a small permanent population. A few businesses are open, mainly serving visitors to scenic Kingston Canyon. A road to Big Creek was built by the CCC in the 1930s, and Groves Lake was created in 1969. The Forest Service maintains a campground about 2½ miles up from town, and several other primitive campsites are also present.