Saint Clair
The story of Saint Clair began before 1860, during the days of Ragtown, when ranches were established along the Carson River and stations opened to serve roads passing through the region. Among these was the ranch of Augustus 'Gus' Meacham. By 1863, Meacham subdivided and sold off his properties. One of these would become known as "Big Adobe" when a large two-story adobe building was erected sometime around 1865. There is some stipulation over who built Big Adobe; it was more than likely built by W.H. Taylor who owned the ranch at the time (though some believe it was built by Bill Bailey, who wouldn't buy the ranch until November 1869).
It was during this time that James St. Clair and J.J. McClellan were operating a toll bridge and station on their ranch, known as St. Clair Station, about four miles northwest of Big Adobe. A post office opened there in 1865, and when Ragtown's closed in 1867 became the only post office serving the region. That post office would only last until 1869, and the next one to open in the region wasn't until February 16, 1877 when the St. Clair post office opened, this time located near Big Adobe.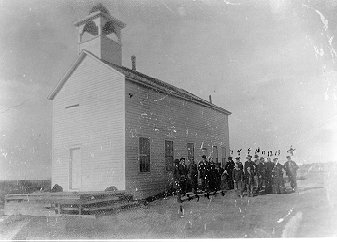 By the late 1860s, Big Adobe had become a prominent community center of sorts for the surrounding ranches. Dances, parties, and other social gatherings were held there, and it was even considered for county seat (though it lost the vote to Stillwater in 1868). By 1871, the building was unoccupied as its owner (Bill Bailey) was making his home at another ranch further south. That year it began housing the first school in Churchill County with Lemuel Allen as teacher. There were eight rooms above the classroom, allowing Big Adobe to serve as a boarding school, and classes lasted from November until March or April each year. It continued to serve as a school (and community center) until 1875 when a new school was erected. The Institute, as it was known, was also a boarding school and classes were taught by W.H.A. Pike and his wife Ida (daughter of Ragtown's Asa Kenyon). The Institute was later purchased by the Seventh Day Adventists and used as their church.
In 1877, the new St. Clair post office opened near Big Adobe. By 1878, the post office was located on the ranch of Jackson Ferguson, who served as postmaster for some time. Ferguson's ranch was located just to the east of Big Adobe and just north of Magee Station. St. Clair, as the community was now widely known, remained the agricultural center of the area until 1896 when Fallon was established. As Fallon grew, it became the largest and most prominent community in the region and St. Clair's importance faded. The post office closed on November 30, 1907. The following year, the Institute (Adventist Church) was moved into Fallon, where it still stands. A new schoolhouse opened in the St. Clair district in 1911 and was used until 1956 when students were bussed to Fallon.
Today, some of St. Clair's original ranches still remain (some of these can be found on the Lahontan Valley Ranches page), although the community has faded into memory. Big Adobe no longer stands, and it isn't known when it finally disappeared. Two cemeteries remain from earlier days. One of these is located on the original Jackson Ferguson Ranch, though it isn't accessible without crossing a private field. The other is located about a mile east, adjacent to the site where the Institute once stood. St. Clair Road now runs near the site of the community.